Sunday May 11, 2014
Today I released a video about Royal-Lac Proving. You can watch it at: http://www.shellacfinishes.com/how-to-videos/
Monday May 12, 2014
Got word from Dan (owner of Lyricraft) yesterday that he tore his shoulder moving things around for a garage sale. This means that he has not been able to experiment as I stated in my last blog post. I'll post an update after I hear back from him with results.
Moving along – This morning I received and email form a client whom I had helped with shellac application some time back. I'll let him share his experience about his project.
Joe Maday wrote:
Hello Vijay!
I know it has been awhile since I ordered the shellac from you but I thought I would share the end result with you. I finished this piece a while ago and came across it while cleaning out the desktop of my computer.
Walnut bedside chest of drawers: Walnut and Walnut and Maple sawn veneers, sycamore drawer sides and  brasses from Londonderry.
The carvings are of walnut and are applied. The drawer sides and backs are Quarter-sawn sycamore. White oak is the secondary wood as is the drawer fronts, all joinery is hand done. Ship-lap rear panels are of pine.
The finish on the bow-front bedside chest of drawers, is a dye stain to even out color variations of the carcass, and solid top, then oil to enhance the book-matched side panels and the crotch figure in the shop-sawn veneers on the drawer fronts. Then super blonde shellac is applied, many coats, sanded/steel wool between coats, then a final rubout with 0000 steel wool, rottenstone/mineral oil and then finally wax.Thanks again for your help and information in the past.
Thanks
Joe Maday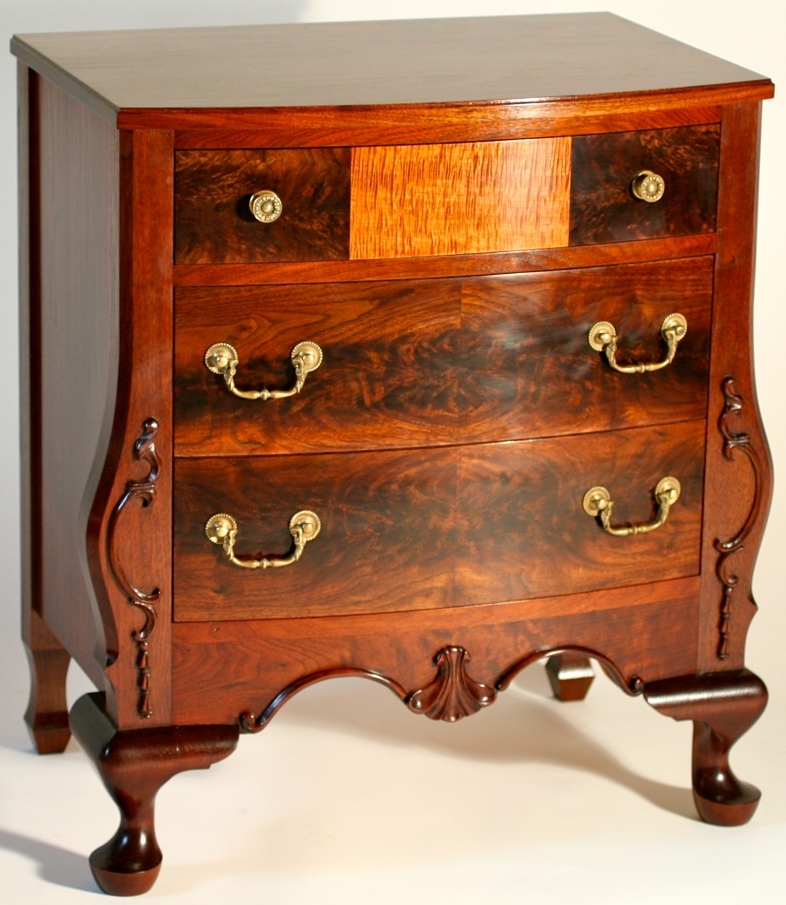 Saturday May 17, 2014
This afternoon I received the following email from Richard:
Hi there.
I read an article on the Fine Woodworking site and watched the
associated video you made showing how shellac is made.
That is an extremely interesting video and I thank you for making it.
On your website, ShellacFinishes.com, I watched several other
videos you made and I thought them very inspirational.
(Especially the "French Polish Like a Pro").
I tried shellac years ago and I definitely didn't do things properly.
Your videos have given me a profound new insight into shellac.
I do have a question about the "Learn How Shellac is Made" video.
Do you buy your shellac from those people in the video ?
Or, does your business aid those people in some other way ?
It would be quite heart-warming to know that the money I spend
on shellac is going to the right people.
Either way, -you- sir have gained another customer
(in a couple of months, when I get my workshop put back together).
Thank you very much,
Richard
I simply had to write about this email because my goal through out  the seven years since I started the business, now and in future, has been and will be to indirectly help those who bring us Nature's bounty. Those who are not as privileged as I am. Workers that Richard is referring to are the ones along with their families who go to the forest to collect Seedlac.  The fact is that those forests that produce Lac, are not chopped down for industrial and agriculture use. Hence our demand for shellac indirectly helps in keeping our forests alive and sustain those that live near it.
Thank you Richard for your compassionate thoughts.