June 9, 2015
I know, I know. The last blog that I wrote was on January 20!
The obvious question is what was I doing? If you think it was siesta time, I am afraid not although I wish. Two areas that I was totally focused on; 1) Developing and bringing to market Royal-Lac Aerosol Gloss and Low Gloss versions. 2) Working with two very outstanding cabinet makers to see how Royal-Lac fares in their opinion.
But first let me talk about Royal-Lac Aerosol.
Royal-Lac Aerosol: A boon to many luthiers and woodworkers. Applying a finish is always most of you shy from. It is so different from making good looking furniture. Its a totally different ball game where there is a learning curve, and you don't want to go through it because you have spent all this time making a piece of art and you are simply waiting to display it and grab the accolades, isn't it?? What is most surprising is that all artists know that it is the final finish that will steal the attention of the viewer but we still fail to spend time on the finishing procedure. No worries, I have been through this myself too and I completely sympathize with you. With this dilemma in mind I set out to package Royal-Lac in a aerosol can. Believe me, it was not easy as I had envisioned. It took 9 months of research and 4 months of testing. Finally I have it and it works wonderfully well. It sprays like a spray gun and the coating is thin and even. It dries fast and a re-coat is doable in about 30 minutes or less. I have had several well known woodworkers and luthiers test it and all have been surprised at how well it works. Robbie O'Brien is of the opinion that two cans are adequate for finishing a guitar. I have also made two videos showing how to finish a Jewellery box with Bob Jacobson and another on how to finish a gourd art. Please view and let me know your thoughts.
Oh! and don't forget to send in your comments and feedback after you use one of these.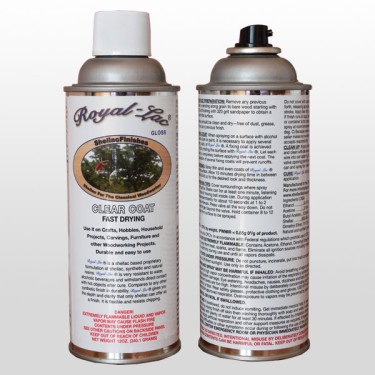 June 9, 2015
Now let me talk about one of the cabinet makers that I am working with to evaluate Royal-Lac. His name is Matthew Wolfe, and he owns Doucette and Wolfe Furniture Makers with his wife Moriah. 

https://www.youtube.com/user/doucetteandwolfe
Thanks to Matt for approaching me after he read an article in Fine Woodworking about Royal-Lac. He was eager to give it a try knowing the kind of finish that only shellac can produce. Well, the good news is that he has been experimenting and he is extremely pleased. He has also tested Royal-Lac Aerosol and is absolutely pleased with its ease of use and final results. Here are some photos that he sent me showing all the time he has invested.
Vijay, I wanted to send you some pics of the pieces I finished with Royal Lac along with the samples I am currently using for test samples with with Seal-Lac and Royal Lac.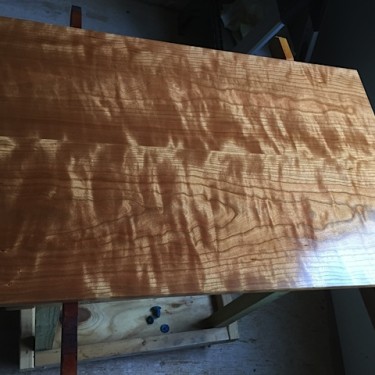 These are tops for two curly cherry End Tables and a Coffee Table. We purchased a large log of curly cherry so all the curl is consistent between the pieces. We will also be making a large Entertainment Center that will go with these pieces. The surfaces of all of these tops is hand planed only, no sanding. I had a few coats of shellac on these before I applied three coats of Royal Lac. I thinned it a little to approx 1.5lb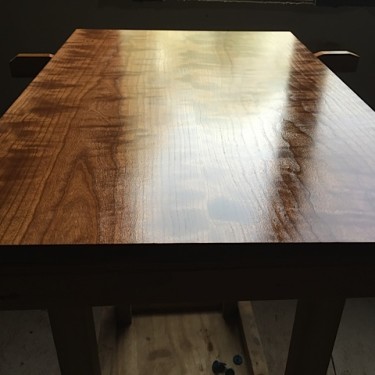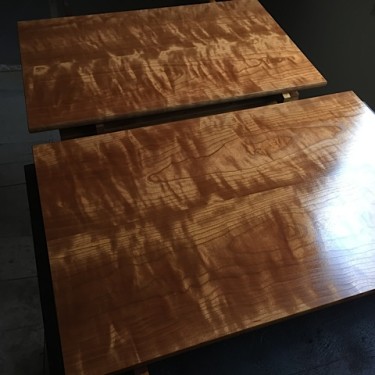 I will wait approx 7-10 days to rub out. These will be a low gloss soft sheen per the clients request.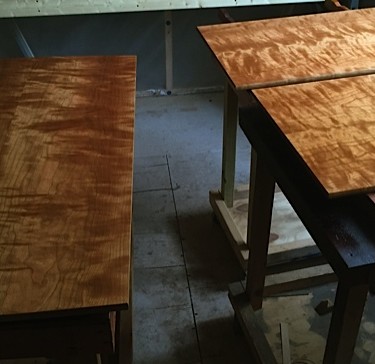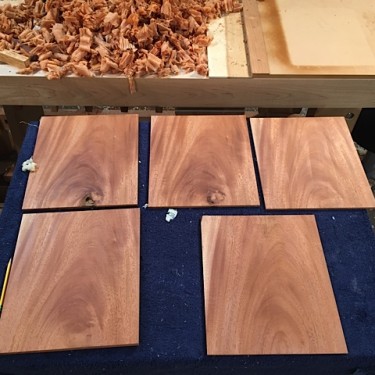 Mahogany samples for a client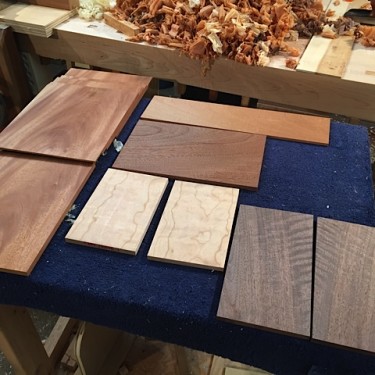 The Mahogany on right, two curly cherry and curly walnut samples will be Seal-Lac and Royal Lac.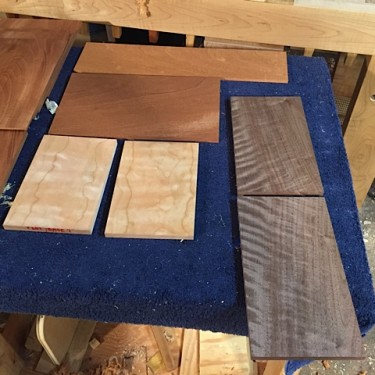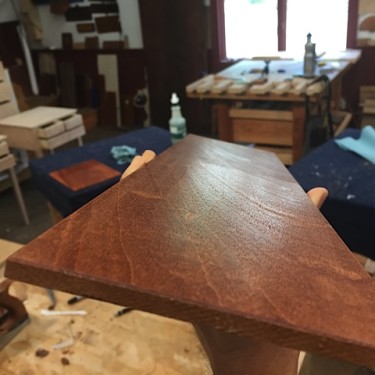 This mahogany sample has a couple of coats of Royal-Lac. The far half on the piece is sanded with 220 compared to the near half which is hand planed. The difference is noticeable in the overall clarity.
June 10, 2015
Matt from Doucette and Wolfe Furniture Makers, https://www.youtube.com/user/doucetteandwolfe
sent me some photos of finished furniture with Royal-Lac. Just enjoy the craftsmanship, detail, color and texture!!!
Coffee Table top finished with Shellac and 5 coats Royal Lac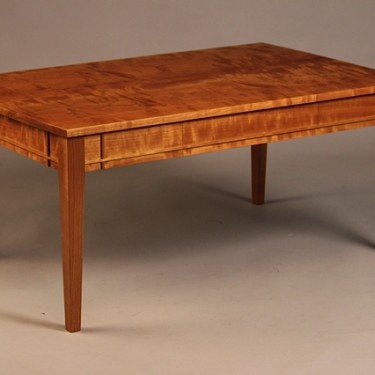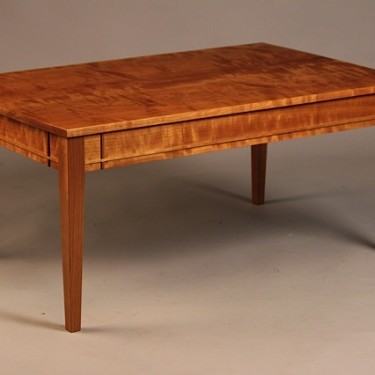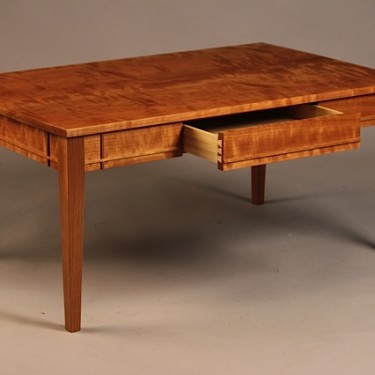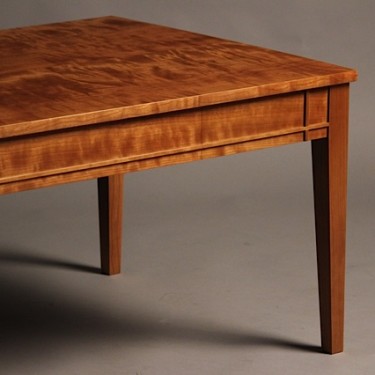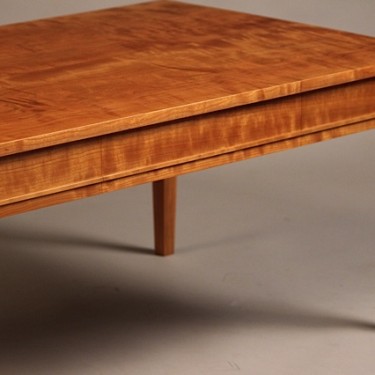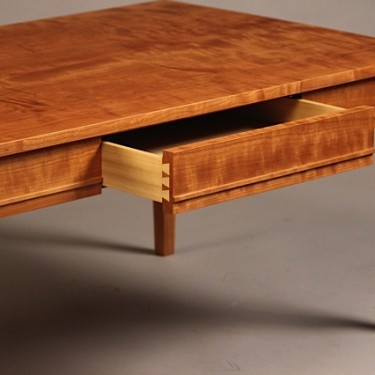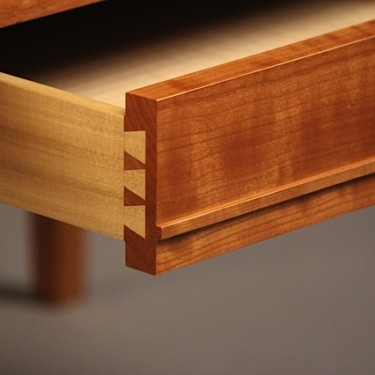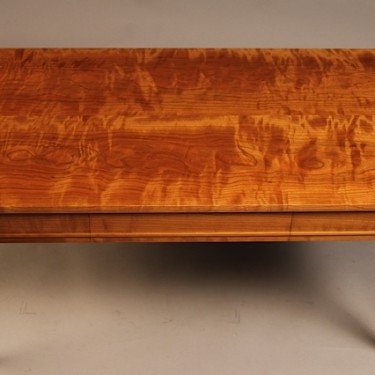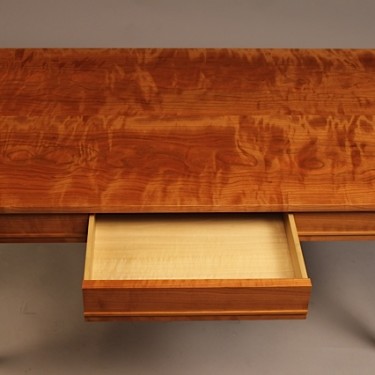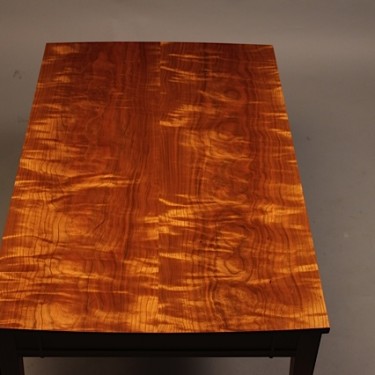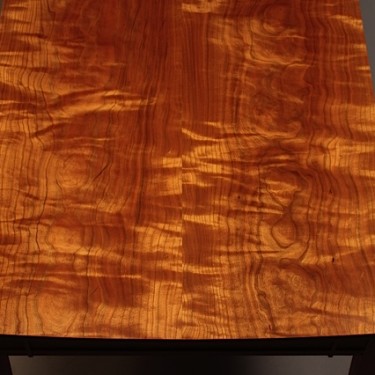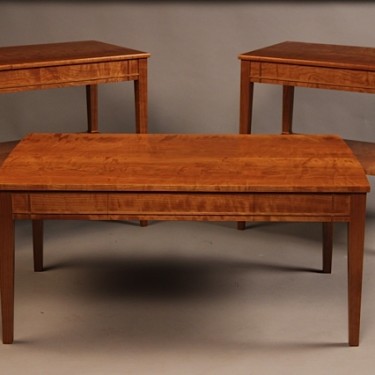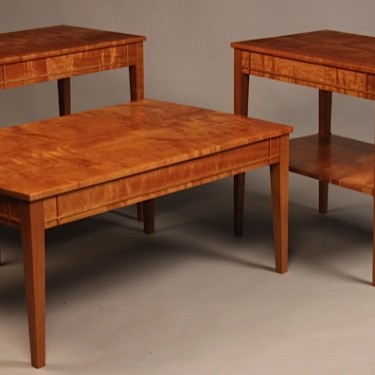 These tables are finished with shellac and 4 coats Royal Lac.